From time to time, AMN writer Mike Eisenberg revisits older albums that he has not listened to in a while and provides comments.
José Luis Fernandez Ledesma Q, Margarita Botello – "Sol Central" (2000)
Here is a real nice piece of avant prog from 2000. I probably only heard this once back then since I was buying music hand over fist around that time so, while I remember liking it…I didn't remember a note of it.
Happily, this revisit did not disappoint. I really like the heavily "loopy" sound and the occasional field recording, plus the playing by Q on just about every instrument on the album is stellar. Botello's vocals are excellent too. There are definitely shades of H Cow and the A Bears here and Botello's voice does have a tincture of Dagmar on this release. Over 20 years later, this album aged very well and I'm really glad I dusted it off.
Archie Shepp Meets Kahil El'Zabar's Ritual Trio – "Conversations" (1999) 
Been wanting to hear some Ritual Trio for about a month now after it came up in a conversation which sparked some reminiscing of all their gigs we saw back in "da day" at the Lower Links Club in Chicago.
This one (recorded in 1999) has Archie Shepp sitting in playing his meaty tenor sax and piano along with Kahil El'Zabar on drums, Ari Brown on tenor sax and piano (alot of really fine piano actually), and Malachi Favors on bass. Great lineup…right? It has a very spiritual/Coltrane-esq feel. Definitely recommended but my only (smallish) caveat was the mix of Kahil's drums was somewhat muddy. Don't let that stop you though!
Joachim Kühn, Mark Nauseef, Miroslav Tadic, Tony Newton – "Lets be Generous" (1991)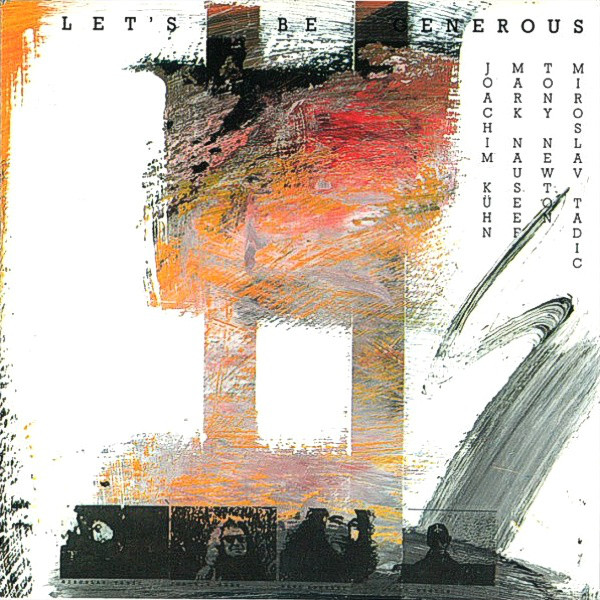 There is one rule, and one rule only when it comes to this record. LISTEN TO IT AS LOUD AS HUMANLY POSSIBLE!!! There really should be a sticker plastered on the cover in bold red letters that demands this. I don't know if this collab has a name, but the name of the record is "Lets Be Generous" (from 1991) and it has Joachim Kühn on an ungodly overdriven organ and some piano, Miroslav Tadic on electric guitar that befuddles me how he kept pace with Joachim, but he does, Tony Newton on electric bass channeling Laswell's grinding and shredding style in Last Exit and, last but not least, the horribly underrated Mark Nauseef on kit drums and percussion.
If it matters to you, you can file this under jazz, but WTF kind of jazz sounds like this??? It's definitely its own beast. All four players are just brilliant but, for me, the stars are Kühn and Nauseef. Both these guys are navigating styles so far out of their comfort zone I feared for their lives at times. This is such an underrated classic, and it's on the great CMP label which is noted for its great sound and engineering. No shit man…this album stonks!!!
Michael Eisenberg
meisenberg1@hotmail.com
https://twitter.com/Bigaudio999